We provide a decentralized vault service that enables to store any secret information in a virtual format or in a physical object. 

Technical
Secret is stored in an off-chain encrypted environment  or in a bank vault
The reception and delivery of  the secret use protected channel (KYC, encryption, secured envelope,.. ) 
No one can access the secret at any point of the process
The mechanism is fully transparent Legal
Banking level KYC for onboarding and requests
Legally valid everywhere in the world whatever the nationality or domicile of the client
The procedure involves a swiss notary
The service is based in Switzerland

Trust
 Protectors of the vault are well respected establishment
The Client can add other vault Protectors freely
Smart contract ensures transparency and vault opening
The framework is highly resilient  (including i.e. nuclear explosion)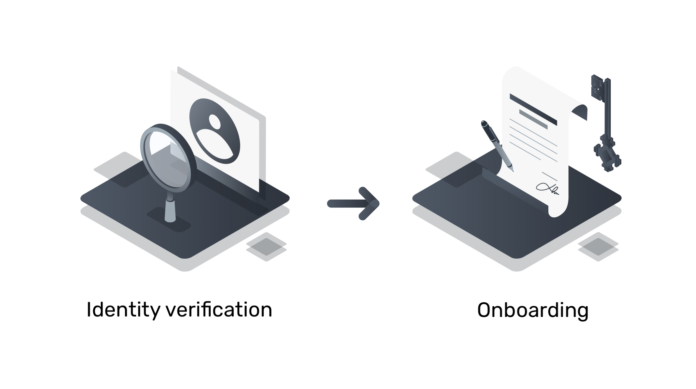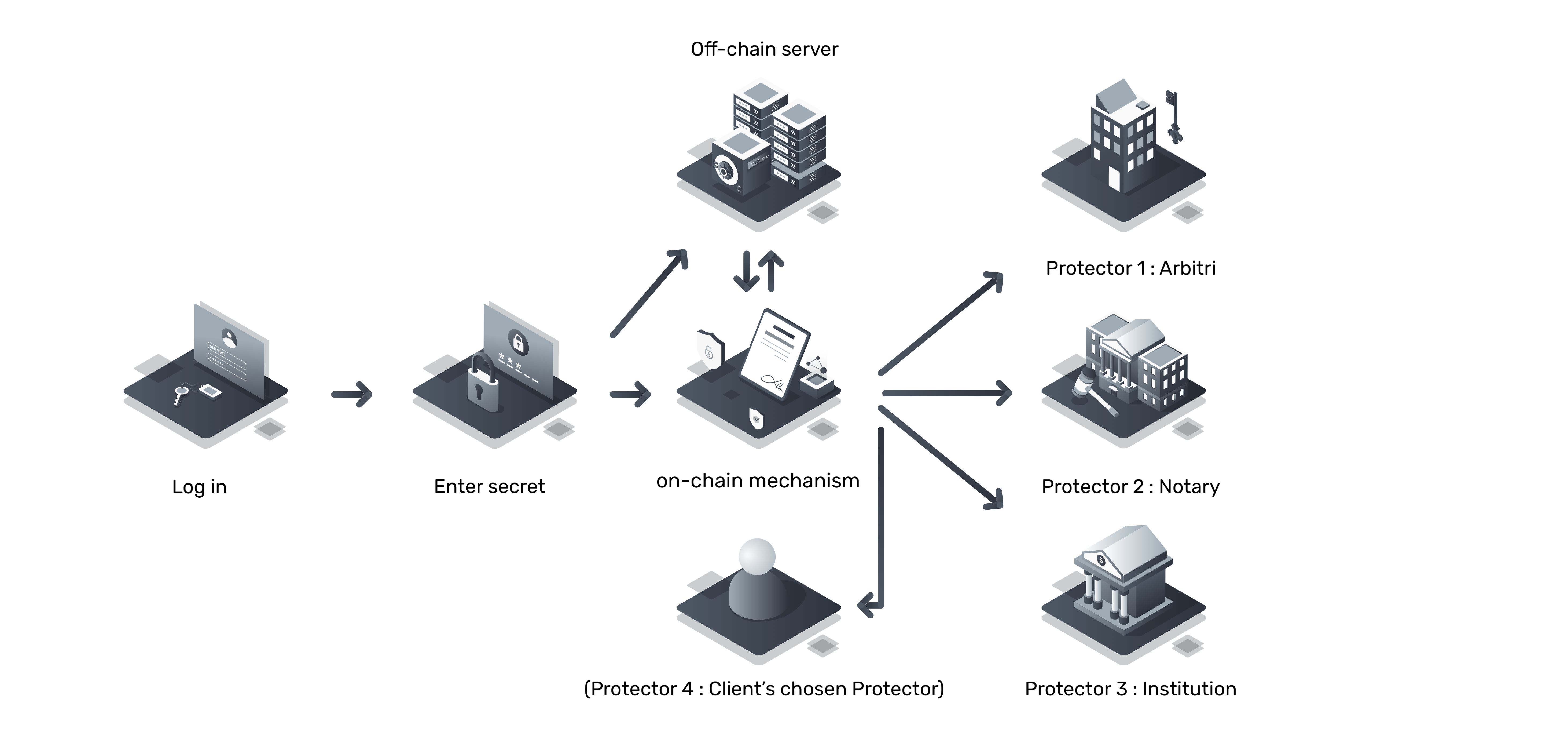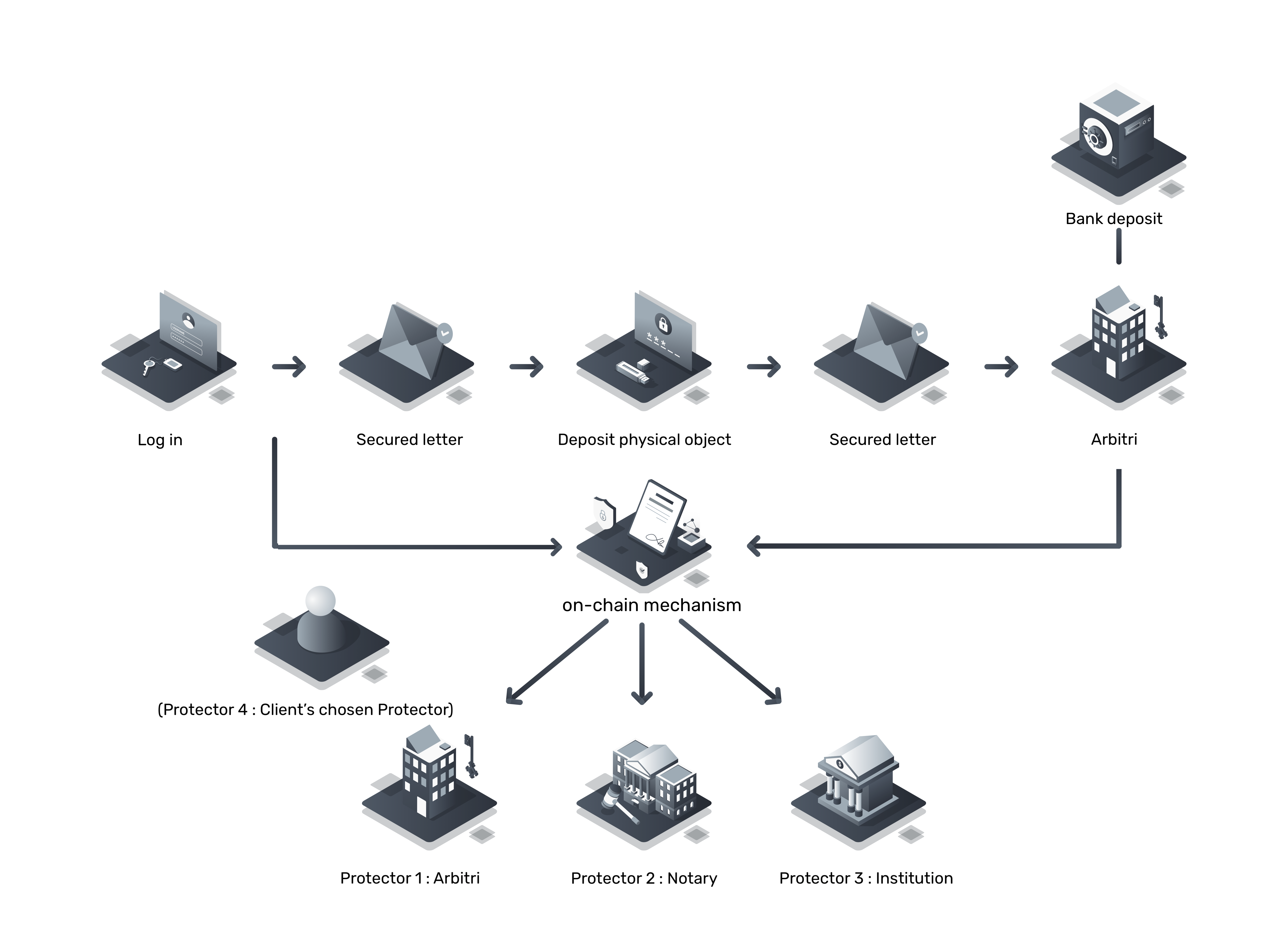 We provide an efficient pass on (inheritance) & recuperation (loss/else) mechanism
  The procedure is legally valid whatever Client's domicile or nationality
  Our solution offers a one-stop shop solution for life and beyond
   You don't need to trust, rely or educate your closed ones in keeping or handling a private key  
   The vault Protectors work in a decentralized fashion, they are trustworthy and extremely resilient 
  The vault Protectors have no disclosure, at any moment, of the secret 
   You don't need to trust us as the whole system is fully transparent

How is Arbitri regulated?
Arbitri is incorporated as a swiss limited liability company (Arbitri Sàrl, IDE-CHE-X). 
Our company is not regulated under swiss financial law.
Who can recover the secret?
Only the Client or his/her Heirs, but only once they have been identified and validated by a KYC procedure and eventually by our swiss notary.
The very information a Client's secret is stored by Arbitri is confidential.
How can I be sure Arbitri is not a scam?
First, from the legal and reputational side, you can follow the ID number of our company and those of the Protectors.
Second, from a technical side, the vault opening and set up is transparent as it is publicly visible on the blockchain. Consequently, the secret cannot be released withouth the Client's knowledge.
Also, Clients can set up additionnal Protectors of their choice by adding directly their ETH address. 
Finally, Client can secure their secret prior to the deposit. For instance a partial version of the secret (e.g. part of a mnemonic phrase) or an encrypted version of the secret can be stored.
What if someone uses force or threats against Arbitri or the Protectors?
Our solution uses special mechanisms to protect the vault against all types of attacks.
In order to be successfull, the attacker would need to compromise all private keys, included those the Client set up as third party protectors, to open the vault.
Further, our system foresees a technical delay for the authorization signature to be perfomed and a revocation mechanism. Finally, any secret is encrypted by us and potentially by the Client prior.
Under those circumstances, the success of an attack is utterly illusory.
What if one or all of the Protectors or Arbitri get dissolved ?
If one or several of the Protector(s) resign or get dissolved, Arbitri will replace them by other(s). A dissolution procedure is foreseen and Clients will be informed of those changes.
In the eventuality Arbitri Sàrl itself is dissolved, Clients will be informed so that they can reallocate and protect their secret in other ways. Finally, our own dissolution procedure foresees destruction of private keys in order to protect Client's secret.
How can secret be recovered?
Demandor must submit a request to access the secret. This request requires a banking level identification from the demandor(s) and, depending on the request, official paperwork from notaries.
Virtual secret are encrypted and secured off-chain whilst physcal secret (e.g. USB key) are stored in the vault of a swiss bank.
What if there is a nuclear explosion blasting off Switzerland?
Our scheme is protected against end of the world event.
In short, if all Protectors disappear, two selected notaries will be entitled to recuperate the seed keys of the Protectors stored in a secret vault inside a mountain somewhere in Switzerland.
The procuration is aknowldeged via blockchain. This solution uses the fact that notaries can not be dissolved by law (art. 29, RS/GE E 6 05: Loi sur le notariat (LNot)).
What if the swiss government demand Arbitri to hand over the secret?
In the eventuality swiss authorities would require some actions from Arbitri or the Protectors, we would all be obliged to comply with their demands.
However, in most cases, it can be argue that if the secret is encrypted, partially stored or additionnal protectors are necessary for the opening, any actions are likely to be ineffective.
How does Arbitri or Protectors handle their private keys controlling the vault?
The private keys are protected using standards methods and are kept on three layers of back up.